Fight Club

This is a full contact class which includes boxing technique, sparring mitt work and circuits which is suitable for all levels of ability regardless of experience. Usually this class is broken into two sessions…Beginners & advanced. Each session is designed to allow you to learn at your own pace, there is no pressure to compare yourself to other participants as all exercises are timed rather than participants given set amounts of repetitions to achieve. Ideal for anyone wanting to learn the sweet science. You will be introduced to the correct techniques in basic punches, stance, footwork and basic defensive skills. However the main focus is on the cardiovascular element of the class. Any participants are advised to bring along wraps, skipping rope and a gum shield. All of these items are purchasable from reception at Toe2Toe. . Fight Club takes place every Tuesday and Thursday @ 6:30pm to 7:30pm
Ladies Only class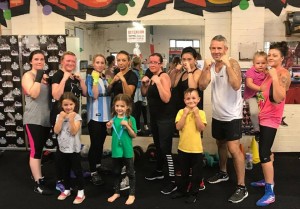 This fun class is structured to bring out the very best in you with regards to having fun whilst working out.  The class is suitable for any level of fitness as we have structured our workout routines to accommodate all abilities, we specialize and focus on aerobic exercises to shape up bums, tums and thighs with a little boxercise circuit mixed in to loosen up and fight the fatigue and lactic acid build up.  There is no contact what so ever in this class so no one leaves with any bloody noses or black eyes, this is just a general get fit, lose weight and feel great structured class to accommodate that bikini body you loathe for in a fun friendly environment. Children are welcome to come and spectate as we have a seating area with coloring books, pens and paper to keep them occupied, Toe2Toe is a child friendly gym…! Ladies class takes place every Monday and Wednesday @ 7:00pm-8:00pm 
Childrens Class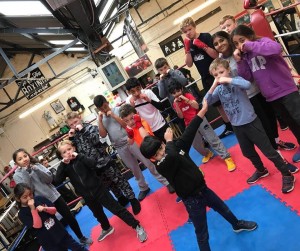 Toe2Toe kids class is for children aged 8 to 14 years of age where our CRB/DBS Certified instructors teach the youngsters the basics of boxing including offense & defense drills once warmed up on each session. Occasionally the instructor will get the kids to work with each other in our 18ft competition ring if parents agree to let their child have a light spar wearing 14oz gloves and headgear, we will not pressure anyone into doing anything they are not willing to do but we will encourage them. We strive on bringing out the best in everyone here at Toe2Toe.
Parents are more than welcome to spectate throughout their child's session, we have a seating area by reception which tea, coffee and snack are available. Children's class takes place Tuesday 4:30pm and Saturday 11:00am 
MMA BJJ Kickboxing K1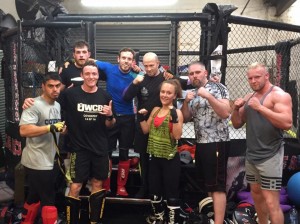 MMA, BJJ, GI, NO-GI, Kickboxing and K1 which are suitable for anyone over the age of 12 years, these classes are conducted in our 18ft competition cage and matted area to the rear of the gym, these classes are becoming really popular with men, women and children of all ages wanting to learn mixed martial art's as a form of self defense with a positive outcome. These classes are also suited for any level of ability and a great all round fat burner plus a fantastic way to build core, gain strength and condition your body to full advantage. This is fantastic for building confidence as you will be taught by our para Olympic gold medalist who also went on to win gold in our National BJJ championships four years on the trot. MMA classes take place on Monday, Wednesday and Friday from 5:00pm (juniors) 6:00pm (seniors) 
Professional Fighters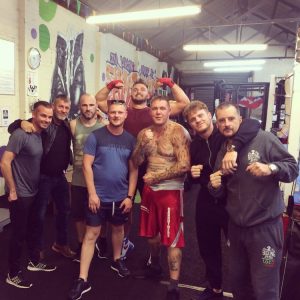 Our seasoned professional fighters class consists of boxers, MMA and Bare Knuckle boxers where we get together for grueling strength and conditioning sessions, sparring and mitt work. This is great for the guys to sharpen up on precision, speed, agility and power, sometimes these classes are private where doors are locked from the public and no cameras allowed. Majority of the time spectators are absolutely more than welcome to come and watch the pro's in training. These sessions may look brutal but they really enhance a professional fighters durability and stamina to their fullest of potential ahead of their careers.
These classes take place weekdays @ 12:00pm
Recovering Souls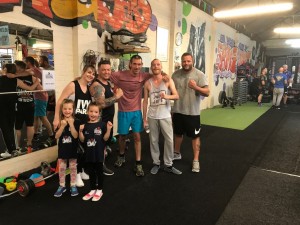 Recovering Souls class which we offer is a confidence building program for people in recovery from alcohol and drug addiction. We strive and give full focus in helping these individuals overcome their old habits with an abundant psychological program which offers a greatness feeling with a structured class where we all work together in various exercises. These classes are easy going and not too strenuous as our main focus is to achieve a positive outlook in their lives with good vibes and a vortex of manifestation to create a blissful future for them. 
These Recovering Souls classes take place Fridays @ 6:00pm
Look Good Feel Good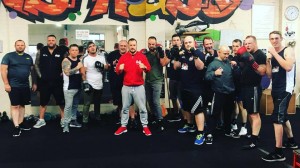 Awards for all funded program- Toe 2 Toe have been delivering projects within Coventry for almost 3 years. Witihn this period we have helped several hundred individuals become more confident in the approach to living in a 'normal society'. Whilst working with a certain individual who over the course of 11 months has seen his weight drop from 24st to 15st he came up with the idea of helping others who have struggled with their diets. He claims our methodolgy of working with him was something that most professional agencies such as doctors, slimming worlds and dieticians that he used couldn't get the results that we got. He approached us with the idea of delivering a project helping others to lose weight as well as get fit in the process. He has actively volunteered himself to help out on the project. Using his knowledge and success we have over a period of 2 months consulted with medical centres in the Canley and TIle Hill areas of Coventry, we have engaged with slimming clubs such as Slimming World and Weight Watchers and local community clubs. The feedback we got from these different organisations was quite staggering. We were not aware that their is a systematic problem wthin our children up to the age of 6 being classed as obese. Things are not much brighter for the adult sector also with over half adults being classed as overweight or obese. The doctors and the nurses we spoke to told us of their frustrations in seeing increasing numbers come to them because of illnesses which are directly linked to being overweight. Within this consultation period we spoke with 6 leading professionals and managed to talk to 19 overweight individuals who were referred to us or had heard about our volunteers achievements. They all wanted the results that he had managed to achieve. We want to deliver this project for a year and offer the help and support to those individuals suffering from ill health because of their weight and those who generally want to lose weight but are put of because going to a gym is intimidating to them because of their size. Look good feel good classes are Monday & Wednesday 5:00pm
Warwick University Amateur Boxing Club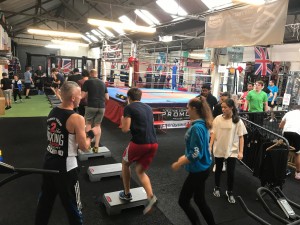 These amateur boxing classes are for Warwick Uni students only as they all need to be registered with the EABA. These are fantastically ran classes with some really talented prospects looking to compete at high level. Their training regime usually consist of a 10-15 mins road run then back in the gym practicing technique, perfecting their skills and then onto sparring using headgear and 16oz gloves. 
These classes are ran Thursday's 7:00pm – 8:00pm and Sunday's 12:00pm – 2:00pm
Coventry Bears Rugby League Team Training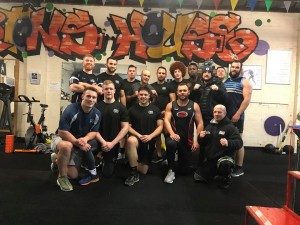 Coventry Bears rugby league squad compete in Kingstone Press League One as the only professional rugby league club in the Midlands region of England UK.  Coventry Bears Men's First team have been one of the most successful teams to compete in the Rugby League Conference since their inception in 1998. With 6 Midlands Championship titles, and two major National titles, to their name. 
These session's we provide for the Bears are agility, speed, strength and footwork based strategies to coincide with their playing skills, we also work on co-ordination techniques too so that their ball game remains sharp, responsive and precise. These sessions take place every Wednesday @ 7:00pm 
Adolescent Teens OFF THE STREETS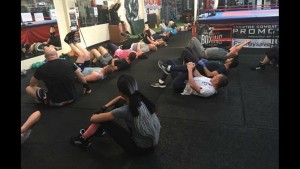 WE ARE REACHING OUT FOR FINANCIAL SUPPORT FROM BUSINESS'S.
Leighton Brady owner/founder of Toe2Toe boxing & MMA Academy Ltd based in Canley, Coventry is looking to provide help, support, direction, fitness and stabilisation for underprivileged teens ranging between 14-18 years of age.
I feel we are losing teens to a society in which petty crime, drug taking, drinking and general anti social behaviour is becoming the normal procedure in the adolescent years which then breaks into a more serious lifestyle of crime.
I myself was no angel growing up as I had no one there to assist in my direction in life, fortunately I found boxing at the age of 21 which then led me on to where I am today. I am currently still competing in combat sports and recently fought one of the worlds best UFC/Bellator super stars (Melvin 'The young assassin' Guillard) in a professional BKB bout in Coventry. This was potentially my last ever fight as I am now 39 years of age so i am offering my full focus to give direction, belief and hope back into the community of the  adolescent society by arranging group sessions on a weekly basis at my gym which has a floor space of 4,200SqFt. I also work with one of the UK's largest combat sport organisations where we hold event's in the Midlands, mainly Coventry at The Mercia Venue for some of the biggest and best prospects in the fight game industry, styles include- Boxing, MMA, K1, BJJ, BKB and Kickboxing. I am looking for support from business owners to get their companies and staff recognition  for helping the underprivileged adolescent teen society from a life of crime by coming together and joining forces with myself to prevent this from happening. Your business logo and company info will be on all letter headings, social media sites, press releases and much more…!
COVENTRY- http://named most dangerous city in UK – and in Europe's top 10
THIS PROGRAM IS NOT IN PROGRESS AS YET, AWAITING FUNDING.